Categories
Ads in Helsinki
4
Steelcon-service, OÜ,

EE
Helsinki, FI
Hyvää päivää! Tarjoamme yhteistyötä koukkulava kontteja, kontti , säiliöitä ja muita tuotteita asiakan piirrosten mukaan, kontti runko, hydraulinen ramppi. multilift kontti:15m3. pohja 4mm, lauta 3mm
Alfa Alliance, OÜ,

EE
Helsinki, FI
Фирма является представителем Лесоперерабатывающих хозяйств в Карелии, Ленинградской, Новгородской областях. Предлагаем поставку пиловочника (сосна, ель), пиломатериал (доска, брус), балансы сосна,
Estonian fish lovers, OÜ,

EE
Helsinki, FI
Предоставляем услуги . Промышленная филировка лосося . Упаковка Вакуум , заморозка , хранение . Холодильник -30 вместимость до 200 тон готовой продукции . / tel viber .
Within the radius of 240 km from Helsinki
Steelcon-service, OÜ,

EE

,

235 km
Jyväskylä, FI
Hyvää päivää! Tarjoamme yhteistyötä koukkulava kontteja, kontti , säiliöitä ja muita tuotteita asiakan piirrosten mukaan, kontti runko, multilift kontti Br, Alex Andrev. steelcon-service oy phone:
Rumeks-nnz, OÜ,

EE

,

235 km
Jyväskylä, FI
Dear sir, Produce and offer Packaging for fruit and vegetables, industrial packaging for industry, agricultural industry. We offer cooperation Best regards, Victor Andrev Regional Manager rumeks-nnz
Within the radius of 150 km
New ads
Fuel Pellets, Helsinki.
€115-120 /t wholesale
Test bench with hydraulic brake 16 MW and more, Helsinki.
$1,600,000 /Комплект (компл)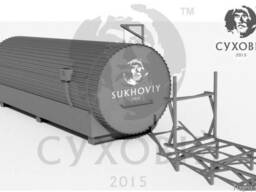 Термокамера для дерева, Helsinki.
$17,000 /pc
×
×
×